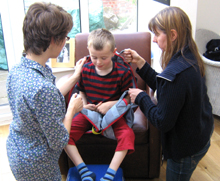 Solutions offer a range of moving and handling training solutions to support those working in the SEN sector.
We have been praised for supporting organisations with bespoke, and competitive solutions…….most training for this sector doesn't require a day of tutor-led training which has historically been offered and impacts on already tight budgets and downtime for the learners. 80% of the training we provide to our customers tends to be delivered through learning the theory of the topic online by completing our People Moving People course, followed by video conferencing training to teach the unique practical skills the customer requires (normally 1.5 hours of training, hoist, toileting transfers), which offers value for money.
Please contact me if you have any training needs or questions.
Click here for a demo of our People Moving People theory course – PMP DEMO
mandiepearson@solutionstraining.co.uk
07751645724