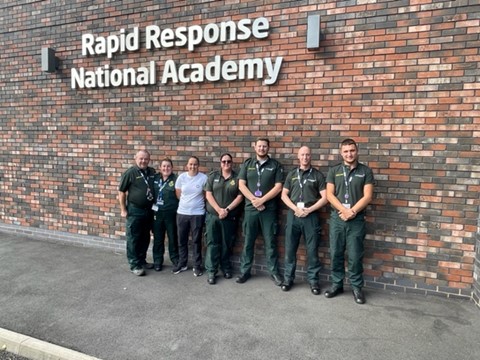 We recently ran an open Moving People Train the Trainer course at Rapid Response Group which was extremely successful. This course is fully bespoke to the ambulance community, it teaches its delegates on how to become confident and compliant moving and handling trainers and qualifies them to the QNUK Level 3 standard for Moving and Handling of Trainers (Emergency Services), which is on the regulated qualifications framework. Our open courses are open to any individuals or organisations within the ambulance sector.
For this particular course, we had the pleasure of training a diverse group of individuals from Rapid Response Medical Group, West Midlands Ambulance Service, and Falck UK Ambulance, and the feedback we received surpassed our expectations. 100% of the delegates stated the course was considered as effective and that they would recommend it to other colleagues.
Katie Housley is an internal trainer, delivering Moving & Handling training to ambulance staff at Flack. Katie stated that Solutions exceeded all course objectives and expectations due to the extent of the knowledge of her trainer (kudos to Paul Meek – former Operations Director within the Ambulance Service).
Katie said that the training has given her the confidence to manage risk when conducting difficult transfers of patients. She also said that she would recommend our Moving People Train the Trainer course to other colleagues due to the course "being amazing, very enjoyable, educating and delivered by a great trainer".
We can't ask for any more than that, can we!