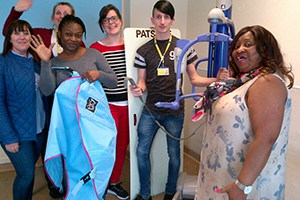 We at Solutions are preparing for a return to running instructor-led training. We have developed and are continuously reviewing our COVID 19 risk assessments to ensure that when we do return we will be doing everything reasonable to ensure we and our learners are kept safe.
This will include a large number of measures which are evolving week by week. We are taking guidance from many bodies including the Health & Safety Executive, The National Back Exchange and of course our Awarding Organisation Q.N.U.K. We are assisting customers to reduce risks by using our online courses thereby reducing classroom time and costs and the use of e-learning may also result in us reducing the classroom time we currently need to deliver Moving and Handling Training to our customers in the health, social care, special education and ambulance sectors. Likewise for our Conflict Resolution train the trainer programmes.
Of course, when we do we will need to be consulting with our customers to ensure that what and how we teach them to deliver after attending our "train the trainer" programmes is compatible with their safe systems of work. Meanwhile, we are working to update e-learning in both moving and handling and conflict resolution.
Solutions Training and Advisory offer both accredited instructor led train the trainer courses for moving and handling of loads and people as well as e-learning options. Our customers are amongst some of the most demanding including 999 services. They trust us so should you to meet your training needs.