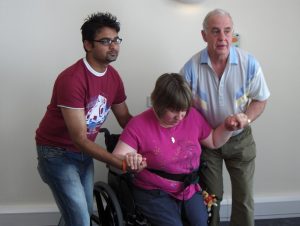 Level 3 accredited Moving and Handling for Trainers in health, social care and special education sectors coming up in London between Monday 19th and Friday 23rd February and Manchester Monday 12th to Friday 16th March. On completion you will.
Take away high quality training materials fully updated in 2016 that include all presentation materials including audio, video, on screen activities and a collection of over 30 film clips as a reference library.
The Level 3 award "UKQN Moving and Handling Trainers award. Health & Social Care (R.Q.F.)
High quality trainers reference manual
Supporting  documents / books including a copy of the Manual Handling Operations regulations, risk assessment pro forma, Guide to moving and handling children, workplace competency observation sheets.
Colour trainee workbook that can be printed off at will by your trainer to give to those they train.
Access to our on line Moving and Handling course "Backs for the Future Plus" for your own development (free demo can be accessed atsolutionstraining.co.uk) or to subsequently purchase at 10% discount
Access to a year of support from the company in respect of any moving and handling issue
Automatic alerts to any changes in best practice.
Training delivered by Paul Meek who has had over twenty-five years as a leading moving and handling adviser to health, social care and special education sectors.
PRICE PROMISE
If you can find a course in London or Manchester that offers the same features and benefits we will match their price.
Our fees: £975.00 London £850.00 Manchester
Call now for details
Places limited to 8
Solutions Training and Advisory offer both instructor led train the trainer courses for moving and handling of people as well as moving and handling of objects. E-learning courses are also available, and currently the entire Welsh Ambulance service train their paramedics using Solutions Training e-learning software titled Backs For The Future.