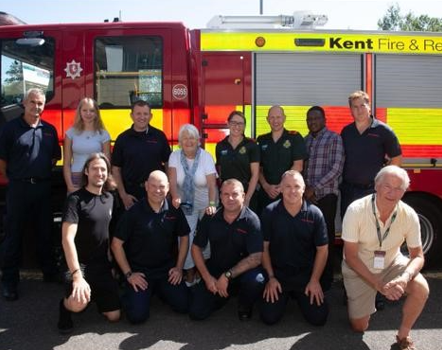 A great week of filming our moving & handling technique scenarios that will be available mid-September.
The below picture is of Kent Fire and Rescue Service and South East Coast Ambulance Service NHS Foundation Trust crews along with actors at the film shoot in Kent. The clips are being developed to promote increased safety and cooperation when handling sick and injured patients. Some 20 scenarios were filmed.
Thanks to the crews and actors who supported this shoot!
The filmed scenarios will be provided to our customers free of charge following the delivery of our Moving & Handling train the trainer programmes. They will be included as part of our post-course trainers' assets and materials to support and enhance the redelivery of moving and handling training to internal staff (moving & handling train the trainer – Level 3 Moving & Handling Trainers QNUK Award). They will also be available by means of a licence to all staff being trained by your internal trainers, allowing them to refer to the clips post-training to maintain their knowledge and reaffirm the techniques originally learned.
#fireservice #firebrigade #fire #ambulance #paramedic #emergencyservices #police #training #risk #healthandsafetytraining #healthandsafety #movingandhandling #movingpeople #manualhandling #level3 #trainthetrainer #crews #lifting #qnuk #trainers #coresponders
mandiepearson@solutionstraining.co.uk