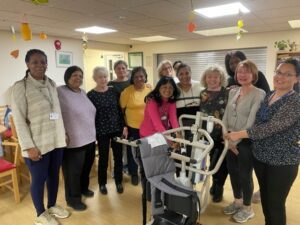 20 years on and another successful Moving and Handling refresher course was completed for Harrow Council!!!!!
Testimonial………………..
"We here at the London Borough of Harrow have been engaging Solutions Training for our moving and handling training for twenty years. We do so because they focus their programmes on meeting the specific needs of our groups be they day centres or residential care. Always professional, enjoyable, and making it fun. The pre-course online knowledge assessment saves us time and money so the workshops can focus on the practical application"
People Moving People – bespoke health & social care moving and handling training. Blended learning – e-learning/online and face-to-face practical skills training.
Click here for a demo of our online People Moving People (sector bespoke) theory course – PMP ONLINE